COASTAL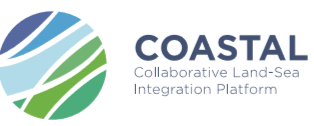 COASTAL
Title
Collaborative land sea integration platform
Ref./Contract no
773782-2
Coordinator
VLAAMSE INSTELLING VOOR TECHNOLOGISCH ONDERZOEK N.V.
Partners
HELLENIC CENTRE FOR MARINE RESEARCH Greece
STOCKHOLMS UNIVERSITET Sweden
SINTEF OCEAN AS Norway
INSTITUT NATIONAL DE RECHERCHE EN SCIENCES ET TECHNOLOGIES POUR L'ENVIRONNEMENT ET L'AGRICULTURE France
INSTITUTUL NATIONAL DE CERCETARE-DEZVOLTARE MARINA GRIGORE ANTIPA Romania
INSTITUTUL NATIONAL DE CERCETARE-DEZVOLTARE MARINA GRIGORE ANTIPA Romania
INSTITUTUL DE CERCETARE PENTRU ECONOMIA AGRICULTURII SI DEZVOLTARE RURALA BUCURESTI Romania
INTERNATIONAL CENTER FOR RESEARCH ON THE ENVIRONMENT AND THE ECONOMY Greece
AGENCIA ESTATAL CONSEJO SUPERIOR DEINVESTIGACIONES CIENTIFICAS Spain
GEONARDO ENVIRONMENTAL TECHNOLOGIES LTD Hungary
GREENBRIDGE INCUBATIE-EN INNOVATIECENTRUM GENT-OOSTENDE Belgium
VLAAMSE LANDMAATSCHAPPIJ NV Belgium
PROVINCIALE ONTWIKKELINGSMAATSCHAPPIJ WEST-VLAANDEREN Belgium
STIFTELSEN THE STOCKHOLM ENVIRONMENT INSTITUTE Sweden
NIRAS SWEDEN AB Sweden
NIRAS SWEDEN AB Sweden
LUONNONVARAKESKUS Finland
ASOCIATIA GAL DELTA DUNARII Romania
ASOCIATIA GRUPUL DE ACTIUNE LOCALA DOBROGEA CENTRALA Romania
TOURISTIKES EPICHIRISEIS MESSINIAS ANONIMI ETAIREIA Greece
IDRYMA KAPETAN VASILI KAI KARMEN KONSTENTEKOPOULOU Greece
ANAPTYXIAKH MESSINIAS ANAPTYXIAKH AE Greece
CONSEJERIA DE TURISMO, CULTURA Y MEDIO AMBIENTE DE LA REGION DE MURCIA Spain
FEDERACION DE COOPERATIVAS AGRARIASDE MURCIA S COOP Spain
CHAMBRE REGIONALE D'AGRICULTURE NOUVELLE -AQUITAINE France
HAVEN OOSTENDE AUTONOOM GEMEENTELIJK HAVENBEDRIJF Belgium
FEDERATION REGIONALE D'AGRICULTUREBIOLOGIQUE NOUVELLE AQUITAINE France
VLAAMS INSTITUUT VOOR DE ZEE VZW Belgium
GLOBAL UTMANING Sweden
Summary
Towards 2050: Road Maps for Land-Sea Synergy - Increasing economic development while reducing the environmental impacts
By combining local knowledge and scientific expertise in a co-creation process, the COASTAL multi-actor research and innovation project engages actors and stakeholders to develop practical business opportunities and policy solutions by improved coastal-rural collaboration. This will be done by identifying problems and setting up evidence-based business roadmaps and policy solutions, focusing on economic growth, marine spatial planning, and environmental protection, including inland water quality.
Multi-Actor Labs (MALs) in the project are co-creation platforms in which experts, economic operators and administrations collaborate to define the different opportunities and synergies for joint rural and coastal development. The MALs are centred around six selected coastal regions with their specific opportunities and challenges: Belgian Coastal Zone, South-West Messinia, Norrström/Baltic, Charente River Basin, Danube Mouth and River Basin, Mar Menor Coastal Lagoon.
During this process the MAL participants will: a) identify the relevant economic, social, and environmental processes influencing land-sea interactions b) identify the obstacles and opportunities for economic and administrative synergy between the coastal zone and hinterland c) propose business and policy solutions to address the issues identified. The results produced by the MALs will be used in a systems-dynamics approach to identify underpinned, long-term strategies for improving regional development, spatial planning, and coastal-rural synergy. Feedback from MAL participants will allow refining this analysis in a second stage of the project.
Project outcomes:
in-depth understanding of the mid- and long-term impacts of coastal-rural synergy and related systemic transitions
evidence-based business road maps and policy solutions with relevant indicators
an online platform for coastal-rural knowledge exchange
tools, examples and practice abstracts demonstrating the added value of coastal-rural synergy