Let's state from the beginning that the DESCA template is an extremely useful tool for anyone who is participating in a Horizon 2020 project; there is no doubt about that.
I think the DESCA team members would also agree that no consortium agreement template is perfect unless tailored on a case-by-case basis. It serves as a starting point and allows you to have all the basic requirements for a standard research and innovation project.
We also think that signing the standard template will only serve to fulfil the basic requirement of having a CA in place in order to finalise the Grant Agreement Preparation (GAP) process. It will effectively support the project implementation only if the standard text is tailored to the needs of the project and the individual needs of the consortium.
So, how should we tailor a Consortium Agreement?
This table shows some of the basic issues to be considered: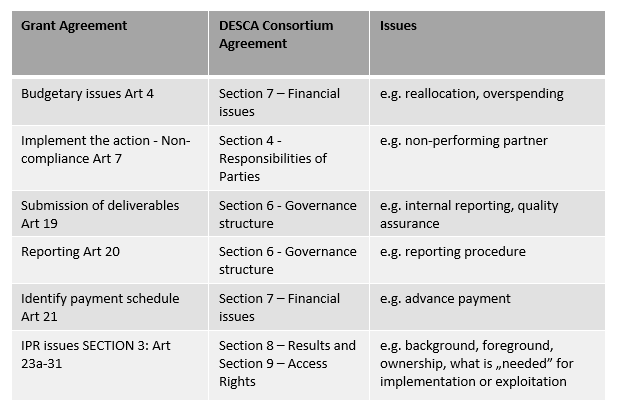 If you compare the EC Grant Agreement – which is protecting the interests of the European Union and the European citizens' money – with the DESCA Consortium Agreement template, there will be topics that both documents cover. The consortium agreement should be protecting the project and the interests of the partners.
Consider what would you do if:
You have partners you have never worked with before.
Some partners need to invest major resources in the first six months of the project.
Joint ownership principles have not been discussed during the proposal development.
You have a complex project in which different background is needed from several partners for project implementation.
Open access to publications and open access to research data are not fully covered in your Description of Action.
At the reporting time, your partner reports much more costs that you planned with – or much less.
… this list is not exhaustive.
DESCA, or any other CA template, will definitely help you manage your project – if you do a risk assessment analysis and see if part of the advance payment should be withheld; if specific processes are needed for handling delays or non-performing partners; if the coordinating team should be given some extra power; if IPR related issues have to be clearly specified; if reporting rules should include internal measures as well, etc.
If you want to know more about these issues, we have a one-hour webinar during which we will share some interesting stories from our H2020 projects.
Also, our one-day training course on CA issues has helped already several researchers and legal advisers to tailor their CAs to their research and innovation projects. Join us!