Last June 23rd and 24th, the Research and Innovation Days event was held as a digital event with live sessions about the future of European research and innovation, and Horizon Europe, the new European research and innovation funding programme.
During day 2, as part of the event programme, the "Mission Ocean, Seas and Waters for Recovery" was hosted by Charlina Vitcheva, Director-General of DG Maritime Affairs and Fisheries; Pascal Lamy, Chair of the Paris Peace Forum and the Starfish 2030 Mission; Ulrike Rabmer-Koller, the CEO of Rabmer Group, and Claudia Monteiro de Aguiar, a Member of the European Parliament.
The session had many questions from the public which were not addressed due a lack of time. So, we have taken the time to address them for you!
We invite you to check them below, followed by the questions Charlina asked to the panel.
Questions from the public:
1. How much of the activity will involve global partners and international cooperation?
The Mission Starfish 2030 is a link between initiatives across different disciplines to mobilise policymakers, stakeholders and citizens, and leverage public and private investments towards a common target. There are many European Union Policies, Programmes, Instruments and Regulations contributing to The Mission Starfish 2030, which many of them include international cooperation such as Horizon Europe which promotes partnerships with associated countries, or the participation of Europe in the G20 Global Coral R&D Platform, which is a global initiative.
The Mission overall will contribute to many ongoing processes at EU and international level by scaling up their level of ambition, going beyond their current objectives of timeframe, adding new objectives and/or proposing new actions. It will provide game-changing ideas, solutions that will help to raise the ambitions and accelerate the necessary transitions. Given the transboundary nature of the Ocean, seas and rivers a cooperation across regions, countries, sectors will be needed.
2. Which is the most urgent part of the mission, and which is the most important? Are these the same or not?
The most important part to acknowledge about the mission, is the recognition that the Ocean and waters are under threat due an unsustainable exploitation of sea and water resources, unsustainable human footprint, the cumulative impacts of climate change, a lack of understanding, connection and investment, gaps in our understanding and knowledge of the hydrosphere, and an inadequate governance.
The most urgent part of the mission is addressing these various interacting and cumulative threats to our ocean and waters
3. How will the many contributions from manifold sources (commission, member states, companies, science organisations, civil organisations etc.) be coordinated?
The Mission has a mission board defined, which in a preparatory phase for Horizon Europe missions that began in November 2020, will assess the missions against a set of robust criteria. Plans with detailed actions, investment strategy and performance indicators will be developed during this phase. Once approved, missions will get fully up and running.
On the 3rd and 4th quarter of 2021 the launch of the missions will go in full implementation phase, and an updated Horizon Europe Work Programme for EU missions and specifics will be given then.
4. The countries polluting the oceans the most are outside the EU. How to work with these countries?
Horizon Europe, the research and innovation funding programme 2021-2027 is one of the main tools to implement Europe's strategy for international cooperation: the global approach to research and innovation.
The programme is open to researchers and innovators from around the globe who are encouraged to team up with EU partners in preparing proposals. Horizon Europe will encourage international participation in different ways such as:
Topics encouraging or requiring international cooperation.

Joint or coordinated calls.

Exceptional EU funding for participants from non-associated third countries.

Twinning activities with entities from non-associated non-EU countries.

Topics contributing to the implementation of multilateral or bilateral agreements or initiatives.
The programme also includes targeted actions with key partners from non-EU countries, including the development of the Africa initiative that will draw on topics across the clusters of pillar II of Horizon Europe.
5. Will EU citizens and NGOs be involved in the developments of solutions? If yes how?
The main statement of the mission calls on "all European citizens and policy makers to take responsibility for protecting and regenerating rivers, lakes, seas and ocean and demand urgent systemic change from our politicians and leaders". But more specifically, both citizens and NGOs are included within the targets set by the Mission, as we will explain below.
The Mission will address the four interdependent challenges – unsustainable footprint, climate change, lack of understanding, connection and investment, inadequate governance - by proposing five overarching objectives for 2030:
Filling the knowledge and emotional gap

Regenerating marine and water ecosystems

Zero pollution

Decarbonising our waters, ocean, and seas and waters

Revamping governance
Since defining such objectives is not sufficient as they need to rely on more specific components that will trigger concrete action, for each of the five objectives, a set of ambitious, concrete and measurable targets has been defined. They address the actors, activities, tools and systems that all need to be called upon to reach each objective. These 17 targets are considered to be the indispensable components of a holistic approach to systemic change.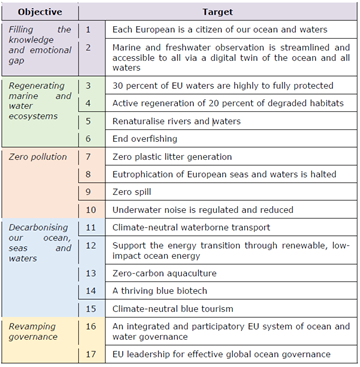 As seen in the table above, citizens are directly mentioned in Target 1. However, if read the Mission report in detail, their participation is mentioned as key for Targets 2, 6, 10, 16, 17. Nevertheless, it is considered a powerful engagement of society as one of the conditions for the Mission to succeed.
The NGOs are not mentioned specifically. However, in the mission report and under the EU programmes and instruments listed, the engagement of "all sectors" in education and the blue economy are mentioned.
6. Will mission starfish concentrate on EUs waters and oceans or does it strive to develop global solutions with global actors?
The main focus is European. However, as mentioned in the answer for question 5, the Horizon Europe programme seeks for international cooperation with a global approach. And as mentioned in the answer for question 1, given the transboundary nature of the Ocean, seas and rivers, the results might also impact other regions.
7. When is the Mission expected to be launched?
The Mission is expected to be launched in the 3rd or 4th quarter of 2021.
8. How can we improve the research and innovation potential of countries without sea access better?
The EU programmes (including most calls related to the Ocean and coasts) are open for landlocked countries to participate. Such as Geonardo that despite being located in Hungary, coordinated AQUA-LIT project focused on marine litter at the Baltic, North and Mediterranean Sea, and has other projects focused on coastal areas such as CoastObs and COASTAL projects.
9. How do we ensure Blue growth and biodiversity protection? More activities in our oceans inevitably mean more impact and our oceans are already in critical state.
The Commission has switched the "Blue growth" concept for a "Blue economy". As mentioned in the EU Blue Economy Report 2021, by Mariya Gabriel, the EU Commissioner for Innovation and Youth, responsible for the European Commission's in-house science and knowledge service from the Joint Research Centre:
"The EU has reaffirmed its resolve to contribute to the UN sustainable development goals, to protect biodiversity in at least 30% of its land and seas by 2030. The EU has set the ambitious target of achieving climate neutrality by 2050, and to put sustainability at the core of its Blue Economy.
These developments will unfold in the years to come, in line with the European Green Deal objectives. We will do so by transforming our Blue Economy value chains, moving away from linear business models towards circular, less resource- and waste-intensive ones. We have already introduced strict measures against marine pollution, coastal litter and plastics. We will continue our efforts to replace fossil fuels, invest in biodiversity conservation, ecosystem restoration and protection, promote nature-based solutions, and incubate marine renewable energy and innovative blue biotechnologies".
10. How will the Mission Starfish ensure that the connection between freshwater and marine systems (i.e. rivers and sea) is indeed addressed?
The connection between rivers and the Ocean is addressed all across the Mission report. For example, as shown in the table of targets under the answer for question 5, Mission Starfish has the goal of regenerating European rivers (part of target 4) and renaturalise rivers and waters (target 5). Moreover, target 6 on overfishing, speaks about the activities that impact the seabed such as the intensive users of water abstracted from rivers and groundwater and the indirect users of infrastructural developments in coastal areas and river basins. Target 7 on zero pollution also highlights the connection between freshwater and marine systems, as well as targets 9, 10, 14-17.
11. As most of the possible measures seem to be done with existing technologies, where does research and innovation fit in?
The Mission Starfish highlights constantly the need for research given our lack of knowledge in a wide variety of topics: the tools at our disposal to restore and manage the aquatic systems are significantly imperfect, due to a lack of knowledge, there is also a significant lack of knowledge of the status of fish and shellfish stocks, and significant gaps in our understanding and knowledge of the hydrosphere and the challenges it faces remain. Furthermore, existing datasets on freshwater are still insufficient, sufficient and reliable data on consumer or agricultural freshwater use and on groundwater is lacking. Despite the efforts, for instance through the Copernicus Marine Service, EMODnet and the Blue Cloud, much more needs to be done in Europe to increase significantly the deployment of observatories (at sea and inland), federate data infrastructures, make open data the new norm and provide tools and services to transform data into knowledge.
"Closing these knowledge and measurement gaps will be key to better protect, manage and harness our ocean and waters and to unlock a whole range of opportunities for citizens, policymakers and investors".
Similar to knowledge, innovation is considered to be key for accelerating the necessary transitions and should act as a key catalyst for transformation in a rapidly globalising world, where success depends ever more on the production and conversion of knowledge into innovation.
——
Questions from Charlina Vitcheva, DG of DG Maritime Affairs and Fisheries to the panel:
As mentioned above, the session also had three questions asked by Charlina Vitcheva, DG of DG Maritime Affairs and Fisheries to the panel, which we transcript below:
How can the candidate showcase the transformations needed?
(Charlina Vitcheva to Pascal Lamy, Chair of Mission Board)
Answer:
To start right now a number of actions, investments, projects, that will ignite the rocket 2030 and together with the Commission, they are working on lighthouse project (demonstrator pilot projects that start now with the intention to scale up in the future. For example, green coastal tourism; or clean sheets -available technologies, mid-sea ships to start cleaning)

Involve the public, citizens.
Regulators & policy makers: what could they do to remove barriers on the way?
(Question from Charlina Vitcheva to Cláudia Monteiro de Aguiar, European Parliment)
Answer:
Provide clear and straightforward information, what means are available, explain advantages of the mission, not leave any sector behind (including those that are more dependent on the Ocean), support and simplify bureaucratic processes.
How can we ensure that it will create sustainable local jobs and good opportunities for investors?
(Question from Charlina Vitcheva to Cláudia Monteiro de Aguiar, European Parliment)
Answer:
Investments must be public + private to ensure sufficient resources

Economic agents are not aware that recovery of marine ecosystems will allow them to maintain jobs

Straight dialogue with all agents about the mission's objectives, opportunities, resources, etc
How do you see the path of key innovations making the way into this opportunities and how to include SMEs?
(Question from Charlina Vitcheva to Ulrike Rabmer-Koller from Rabmer group)
Innovation is key and smes can provide that

Investment- public and private. Ensure demonstration and pilot projects where innovations can be tested

Reduce red tape so companies Can have access to finances

Information needs to be spread of what technologies, products, innovations are out there available

Internationalization - EU technologies need to be available to other regions