Since their launch in 2007, the "Summer Academies" have traditionally been the last training of the season before holidays. This year was no exception. Last week we have closed our 2013 Spring-Summer training season with the "European Funding Academy 2014-2020 – Summer Edition" training in Balaton, Hungary, with the participation of 35 participants from 15 different countries.
In this season, we've met many nice people and professionals. We are very happy that the numerous personal feedbacks we have received were very positive during the year. We are continuously working to improve our services, which is why we always ask our participants to evaluate the training courses based on an evaluation sheet with various questions from professional content to social aspects and comfort.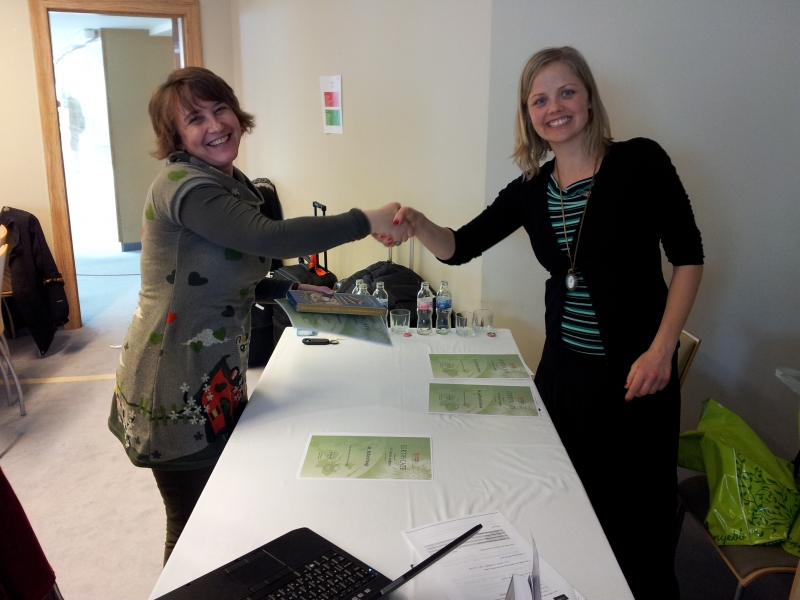 It is not very common, but now we'd like to share the content of these evaluation sheets without any "cosmetics" to prove you that we are assessing the effectiveness of our services very carefully and we are not afraid of facing even the negative feedbacks. Both the positive comments and the negative ones are extremely useful for us in our preparation towards the 2014-2020 programmes, including Horizon 2020, and our corresponding training courses and services.
We have been very critical with ourselves and categorized the feedbacks into six groups which focus us on six directions towards improving our services. Being extremely critical has meant that we've put the feedbacks into the "something to develop" basket, even though it contained mostly kind words, but contained at least one comment on "something to develop". Below we present all of these comments (in bold) together with our responses on how we will take them into account.
"Well done…" – In 40% of the cases the feedbacks were only positive
"Extremely professional and approachable lecturers-content was just what needed :) ; Both workshops were well planned and organised; Keep up the good work! Extremely professional and helpful! Well done!"
"I will recommend the course; Conquer the world with your concept!"
"It was utmost helpful--> the seminar folders are outstanding!"
"Suggestion: We keep in contact with your organisation to be informed about next useful training course for the future"
"Everything was organised perfectly"
"I can recommend to others! Love to see something in the US once we know more about H2020; overall: great info!"
"Find the workshop after the lessons a particularly useful combination"
"Very good, well timed, enough free time"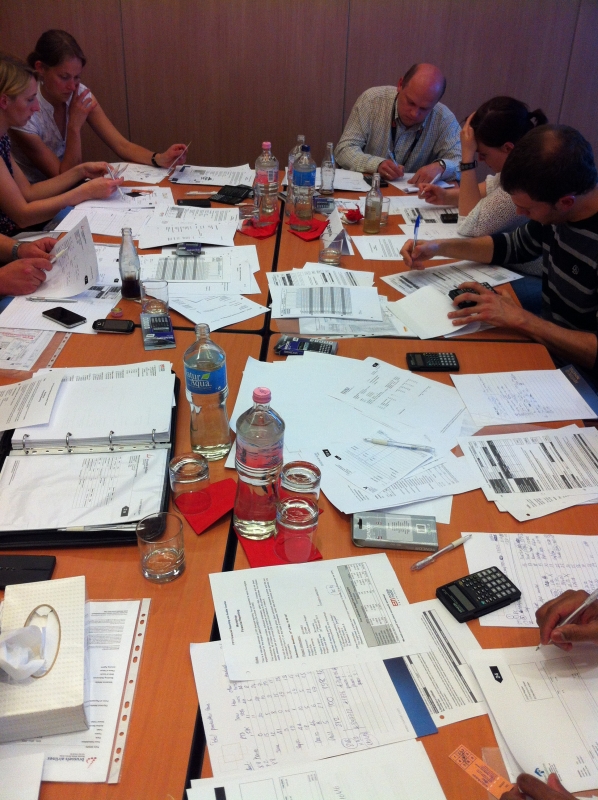 "Suggestions related to the content…" – 27% of the feedbacks contained remarks about the content
"Both presenters and contents of workshop are very well delivered/relevant; I'm planning to do in-house training for my organisation; Suggestion: One specific course for participants from non EU countries in procedures/guidelines in applying for EU grant"
Thank you! We are thinking on having programs for third countries as we previously did during the earlier stages of the current Framework Programme. We need a little bit more info, but we'll do our best!
"Good overall picture, we have troubles, challenges with indirect costs…; a bit more on 2020!"
Our trainers are flesh & bone project managers; as such, we know the critical points. However, although we always try to tailor our input to the knowledge of the participants, there are times when we don't notice that someone needs a bit more explanation. We encourage you to use the official occasions (consultancies) and non-official ones (social events, dinners, etc…) to have 1:1 sessions to ask us about your questions. We are happy to keep in touch and answer your questions after the trainings as well!
"I appreciate that the lecturers did their best to answer every question and even planned a private consultation; Perhaps it should have been investigated the programmes of the participants, as my CIP-ICT-PSP project not really coincide."; "I was happy to have some knowledge of the financial aspects but I 'd have liked to have a training on technical management/IPR issues. Maybe it would need a separate course."; "IPR and legal issues very difficult, because not my daily business"; "I can definitely recommend to my colleagues; The IPR issue could have been improved by having a moderator/facilitator in each room."; "Suggestion: Help us with H2020, rules and programmes. Tips to prepare an excellent proposal. Focus on domain/thematic areas such as ICT! Thank you!"
It's always hard to find a balance on a Management or Financial course between the core and side topics, especially when you have so much experience to share and you are struggling with the watch. This autumn will be busy with FP7 closing and the programmes of 2014-2020, especially Horizon 2020, but for spring 2014, all your requests will be taken into consideration during the planning.
"Speed and duration of the classes…" – 22% of the feedbacks were related to the speed of the lectures and their duration
"Sometimes they go so fast and we get lost. They knew what they are speaking about, but we might need a little more time/explanation to get the whole idea. It was very interesting and useful training. If I had to say something that I would improve, this is not a training for beginners. I would organise this training for different experienced levels. (i.e. beginners, medium experts, senor experts) Also it could be little longer. I wanted more!!! EM is a great company, very professional!"
We always try to keep an eye on the participants' prior knowledge. We try to segment our courses: "Crash course…" is mainly for those who need basic information in a short time, "Project Management…" courses are above basic level "Master-class…" and "Master of…" courses are for experienced colleagues, who have spent some time in EU projects. And last but not least, the 4-5-day "Academies…" are intended to cover every aspect of the topic(s) addressed in that training course (Project Development and/or Management and/or Audits).
"A bit fast sometimes; financial could be done faster."; "The workshops should be longer so that more scenarios can be discussed in more details"; "I would need more time on financial reporting"; "There was a lot to cover in the workshops, perhaps reducing the content examples to make sure everything is covered. More guidance from lecturers would be helpful"; "Financial days: I would have liked longer to look at why my financial figures from the workshop did not match the official answers; very good, I enjoyed the WS. It was a good balance between listening and doing"
Our unique learning-by-doing approach is very popular, because the workshops give the hands-on practice that a project manager needs. Practice makes perfect, thus we always try to make the workshops as intensive as possible. We'll be more perceptive to realize when you need more time. That's the reason why we always try to increase the duration till the limits and decrease the group size during the workshops.
"Environment…" – we had 3 feedbacks about the physical environment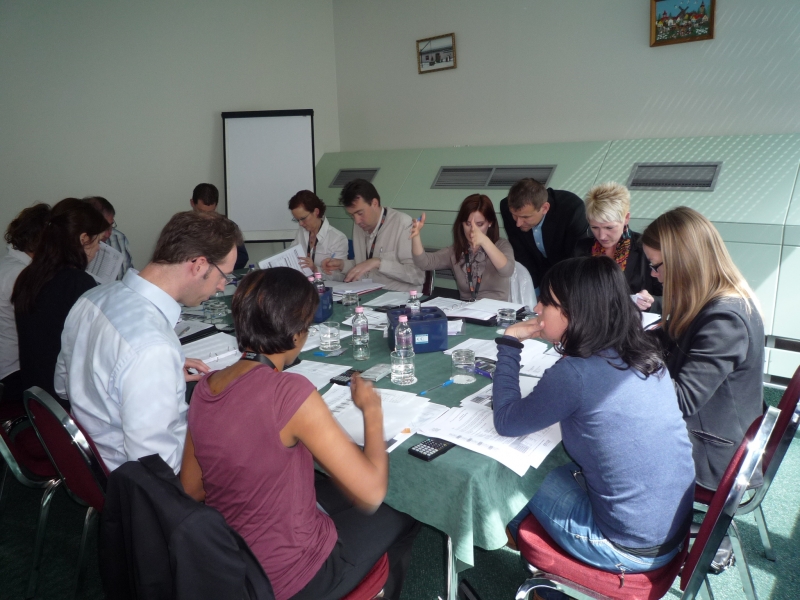 "Duration: OK; interest: high; quality: very good; menu: poor"; "Excellent!; more often breaks"; "All the lectures and presentation of the course were prepared and conducted in a very efficient and friendly fashion. Suggestion: in general the course was excellent, 2 minor remarks: Sometimes the light was a bit too much and inhibited vision to the presentation. It would be useful to have some kind of sound amplification, especially in cases of outside noise."
We are always searching the best locations and environments for the courses and aim at high quality venues. No compromises on these in Europa Media events. We'll go back only to those locations in the future, where everything was (at least) perfect.
"Lecturers…" – 1 comment regarding our colleague
"I would be very happy if Ms. Lovasz speaks a little bit more loudly in the training; Europa Media is well known organisation in Istanbul."
We asked Gabriella to speak a little bit louder, especially when a venue is not located in the middle of a silent forest.
"Organisation…" – 1 comment from the 150+ participants during the season
"I missed receiving confirmation on payment, no proper processing to inform participants about agenda (announcement e-mail), all that i received after asking for it, here i see room for improvement;"
We are working on renewing our customer relationship processes and systems. The given case was caused by an unlucky misunderstanding, but we apologise for the inconvenient experience. Susan will do her best not to have even one customer with such an experience.
Thank you for being with us in this season and a special thank you for your valuable feedbacks!
Cheers, Gabor