What do you know about Netflix? How did they start and how did they manage to conquer the whole world being in almost every living room? What makes Netflix special?
Ok, let's start first with some historical facts. Netflix was founded in California in a beautiful summer August day when I was 7 years old – precisely in 1997. When it first opened, Netflix was purely a website- based movie rental service. It allowed people to rent DVDs online. Customers selected a movie, ordered it and received a DVD in the post. When they finished with the movie, they posted back to Netflix – sounds unbelievable right? Who could predict that this business idea could have had such an enormous impact on how we watch movies and television… how we basically entertain.
Nowadays, Netflix is a leading entertainment platform with over 167 million paying streaming subscribers in more than 190 countries.
Some people would think that Netflix follows a super complex and expensive marketing strategy investing huge amounts for campaigns and online advertisements. Their recipe is much simpler, and it consists of only 2 ingredients:
Systematic social media presence

Unique content
Social media
According to statistics, in the period of 2018-2019, on Facebook, Netflix made 1,022 posts, of which 90% were shorts videos and only 6% visuals.
Indeed, videos are more engaging if their content is specific to the audience's interests. For this reason we also prepared and shared a nice promo video for our EASME-EMFF funded project, AQUA-LIT to boost its visibility and increase awareness on marine pollution.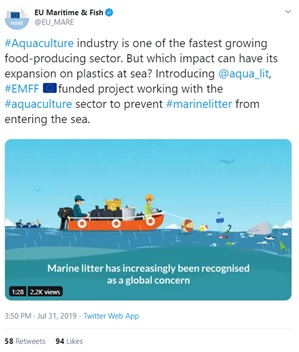 On Instagram, Netflix posts mainly visuals over videos. This is logical as Instagram is all about visual appeal and good aesthetics. Another interesting point is that Netflix uses catchy and easy game hashtags and generates engagement and interactions. Most of those hashtags focus on the upcoming movies and TV show releases and contests. Perhaps, on a project's Instagram, the hashtags will be more connected with a campaign or an objective. For instance, we created a dedicated hashtag for AQUA-LIT's virtual learning labs, called #AqualitLabs
On Twitter, Netflix uses plain funny text and interacts which their fans with clever and entertaining GIFs referring to trending movies and series.
Content is the king
Content is the basis of an effective social media marketing and Netflix knows well how to approach their fans. Their content is centered around authenticity and intense interactions with their fans full of wit and humour. Giving an example from our EU project SPEAR, we always try to share original content from our partners contributions and experiences in the gender equality field.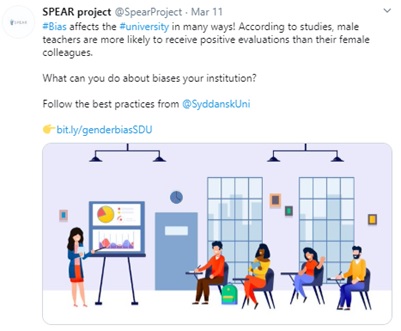 And now you will ask me.. where is the relevance of my EU project with Netflix?
If your EU project has identified its target audience and understood their needs, you will be able to create interesting and engaging content for them disseminating it through your project's website and social media.
To win a proposal, the Work Package (WP) for dissemination and communication needs to be clear and well-defined.
The European Commission (EC) wants to see that you have done your homework. So, you have to find out
who is your target audience,

with what social media channels you will reach them out,

what KPIs you will set for your project.
Of course, the social media strategy of an EU project will not follow the same path as the social media strategy of Netflix, because the fundamental goal is different. Netflix aims to increase its profit and, on the other hand, an EU project aims to create knowledge and provide a solution to a problem, stated by the European Commission. However, still, some similarities exist. If you are wondering how to create an effective social media strategy for your EU project, register NOW for our next webinar Social media metrics: Your friends towards an impactful strategy for your EU project on the 22nd of April.
This is the second part of our social media series
Social media metrics: Your friends towards an impactful strategy for your EU project – upcoming

What would you like to see next?
Join us this Wednesday on the 22nd of April. Register here!