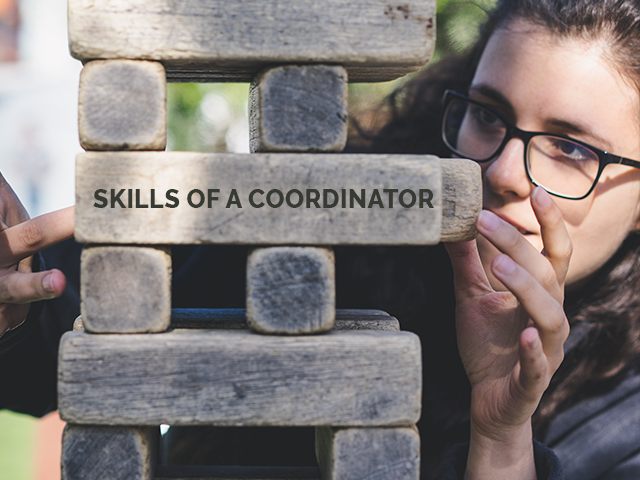 Coordinators are not indestructible creatures, omniscient and above the others. Even mindful, skilled and experienced managers can undertake disastrous and self-defeating decisions. They are required to navigate the turbulent waters of proposal writing, deliver timely and respect strict deadlines. To do their magic, they need a specific set of skills. Luckily, we have identified several common traits that would make a successful project coordinator.
In a way, project coordinators can be compared to political leaders and partners to advisers and chiefs of executive. Less solemn as a profession, project management is about small decisions on a daily basis. It means that the coordinator must always be on point and ready to delegate, collaborate and, ultimately, have the last word. You might wonder: are coordinators born or made? As you will see, some of the following features are inherited and stem from the personality; other skills can be acquired through experience and are at hand of every motivated individual.
Leadership Skills: the coordinator's ability to actively set deadlines, roles, rules, and encourage collaborative work is crucial. Final decisions are a by-product of lively debates among different personalities with their own wealth of experience. Indeed, the Consortium is a heterogeneous assortment made of researchers, SMEs, stakeholders as well as, in many cases, end users. During this interactive process, their backgrounds are in a perpetual balance and shape the project leader's ability to drive the outcomes. How successful the project will be, depends heavily on the capacity of the coordinator to take the lead and, at the same time, be respected.
Social Skills: project leaders must be social animals. Imagine an individual incapable of establishing interpersonal relations, unemphatic and with no intention to get to know his/her partners. Trust me, the 24 months of life of the project would seem much longer than they are. Being the big shot leader and holding everyone together is essential to avoid divisions and tensions within the group. Therefore, excellent social skills, the ability to keep your partners motivated and have the situation always under control, can significantly affect both the quality and the result of a decision process and overall implementation of the project.
Scientific/Technical Skills: of course, being a good coordinator is not only about having charisma and your feet firmly grounded on the floor. Scientific/technical skills might seem obvious requisites, especially given that every H2020 project has a specific topic focus. However, you can find yourself coordinating a project out of your field of expertise. Having at least a general understanding or interest in the project's objectives is fundamental. Relying on your partner's knowledge is an option, but will you be able to take the lead?
Administrative/Financial Skills: the coordinator is not a bank or a bureaucrat, but a consolidated knowledge of the administrative and financial rules of Horizon 2020 is a must. Consider the following: risk management and contingency planning, legal and IPR coordination, IPR management, Consortium Agreement, financial coordination, gender issues, ethical issues, social impact... just to mention a few. Do you feel the pressure of responsibility? yes – me too. Then roll up your sleeves and start mastering your expertise. Don't know how to start? Luckily you have in front of you an expert company providing training and capacity building courses in EU project development and management.
Do you want to learn more? You can easily download from our Knowledge Base platform the list of skills a coordinator needs to have in order to manage a project successfully. In the very same document, you can also read a first-hand insight into the importance of social skills in project coordination.
What is your take on our list? What are the other skills a coordinator needs to have in order to manage a partnership smoothly? Share with us your ideas on Twitter by using #H2020PMtips.
I have heard that my colleagues are preparing great blog posts on their favourite templates and guiding materials – don't miss the next one!
Good luck with your project and remember: any of your actions cannot be achieved without a strong, knowledgeable, and collaborative Consortium!